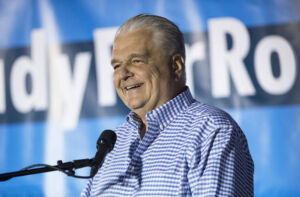 Governor Sisolak Details Long-Term Containment Strategy
On August 3, 2020, Governor Sisolak held a press conference to detail Nevada's
long-term and sustainable COVID-19 targeted containment strategy. He stated that the intention is to utilize all available state and county assets, maximize consistency and accountability, and prioritize the communication of the State's most accurate data to the public and decision makers.
The Governor contends that the benefit of a targeted approach is that the health and safety of Nevadans can be protected by suppressing the spread of COVID-19 and allowing Nevada's economy to remain open for the businesses that act responsibly. The Governor emphasized the State's partnership with the counties as the cornerstone of this strategy.
The State, through the Nevada COVID-19 Task Force led by Caleb Cage, will conduct weekly assessments with each county to determine the virus's proliferation based upon testing data, positivity rates, and hospitalization rates. Cage stated that the criteria determines the county's risk level and the risk level determines the mitigation level. Mitigation policy will be set based upon a combination of the status of the spread in each county and the county's willingness to partner with the State in a productive manner.
The first assessment is expected to be this Thursday, August 6th and is scheduled for each Thursday for the rest of the year.
Thank you for your membership. There is strength in unity.
Wesley Harper, Executive Director
Nevada League of Cities & Municipalities
[email protected]
702.817.5718